Our Difference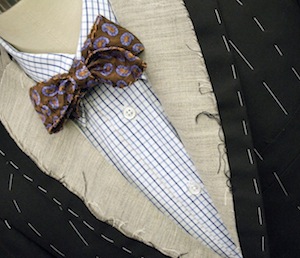 Bespoke clothing is a term used to describe garments that have been made to the client's specifications rather than the "off the rack" approach to most clothing purchased today. From measuring to sewing to fitting, your bespoke garment will be made to fit your unique shape.
True Bespoke
Many so-called "custom" tailors outsource the actual construction of their garments to an outside clothing factory, a practice which usually results in clothing of inferior fit and construction.
At Field Custom English Tailors, we create all of our garments in our Washington D.C. shop. Because we work locally, we are able to invite our clients back for multiple fitting as their garment is being created. The result of this extra care and attention is clothing of unparalleled fit and comfort.
English Style
Mr. Field uses traditional English practice in the creation of his bespoke garments. This means that jackets will have a more trim cut, with a tapered waist and less padding in the shoulders. Jackets are fully canvased, including in the collar and chest, with handwork used to pad the collar with felt, roll the lapels, and sew the buttonholes.
Traditional Practice
Please allow us to walk you through some of the many steps that go into the making of a true bespoke garment.
Swipe to the left to navigate through the presentation